ENRICHMENT PROGRAMS: We have specialized programs that come in weekly to work with the children. Preschool Delivers with Ms. Amy brings in hands-on activities that foster school readiness skills. Stretch-n-Grow focuses on "stretching" the kids' minds and "growing" healthy bodies. Travel Tots focuses on different countries in our world. The children really enjoy these enrichment programs each week.
LESSONS ENCOURAGING ACADEMIC READINESS: To help children get ready for school, I teach the kids colors, shapes, letters, numbers, animals, seasons, and weather. Every month, we learn about different seasonal themes, ranging from apples, when we make (and eat!) an apple pie, to fire safety, complete with a visit from local firefighters and EMTs. (The kids love seeing the fire truck and ambulance.) I also focus on feelings, manners, personal responsibility, health, and character development. And I love to read Bible stories. I showcase a different story each month.
PLENTY OF TIME TO CELEBRATE: Birthdays are a big deal around here. We celebrate each child and make their day special with birthday treats, gifts, and activities. We want them to feel like royalty! On Halloween we have a sensory table, non-scary haunted house, and costume party. For Thanksgiving we have a scaled-down Thanksgiving dinner, complete with prayer time and lessons about pilgrims. During December we create Santa's workshop and host a big Christmas party with all the families, when Santa comes to visit. We also celebrate Valentine's Day, St. Patrick's Day, and Easter. There's always something fun going on here.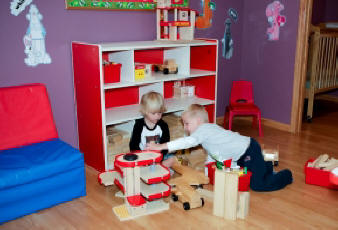 THE BENEFITS OF SOCIALIZATION: Kids aren't born with social skills. These are learned, just as children learn to read and write. At Best Friends Daycare, your child will have opportunities to form positive relationships with other kids. I'm all about encouraging meaningful connections: between the kids, between the kids and various caregivers, and between myself and the parents. We really are a daycare family.

INTERESTING SPACES FOR EXPLORING: I understand the importance of a stimulating, supportive environment—indoors and outdoors—and that children learn in different ways. I regularly buy new toys, rotate toys to keep it fresh and interesting, and rearrange the layout of the rooms.
LESSONS APPLIED TO EVERYDAY LIFE: Experiences throughout the day are used as teaching opportunities. For example, my favorite book to read is What if Everyone Did That? by Ellen Javernick. It helps the children understand why we have rules and encourages thoughtful behavior in a child-friendly way. When things happen throughout the day, like interrupting during story time, I can ask, "What if everyone did that?" and they totally get it!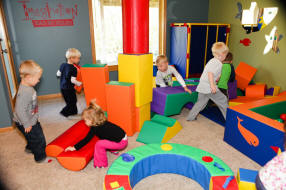 CREATIVE PLAY TO FUEL THE IMAGINATION: Children are encouraged to express who they are through show and tell, art, dance, music, drama, and pretend play.

OPEN COMMUNICATION: It takes a village to raise a child, and YOU know your child best. I listen—and promptly respond to—any questions or concerns you may have. This is a collaborative partnership. I also regularly share important information about your child's progress and how he/she is developing.
HUGS AND LOVE: Your child will always be treated with love, compassion, and respect. I genuinely care about my daycare kids. In this hustle-and-bustle world, it's my goal to provide a safe and loving and nurturing home away from home. I want these children to learn and grow, to build strong feelings of self-worth and reach their full potential. I have been so blessed by the children I've cared for over the years. At the end of the day, this isn't just a business to me. It's a gift. I can't imagine doing anything else.
HIGHLIGHTS OF BEST FRIENDS DAYCARE:
* Experienced provider with 19+ years of professional licensed childcare experience
* Individualized care in a clean, safe, warm, and loving Lakeville home
* Fenced-in outdoor play area
* Monthly educational themes
* Fun age-appropriate activities and projects
* Preschool enrichment program
* Stretch-n-Grow with a certified youth fitness specialist
* Lessons to encourage physical, social, emotional, intellectual, and creative development
* Faith-based principles and practices
* Nutritious meals and healthy snacks
* A robust curriculum with hands-on learning
*Custom-designed indoor spaces for arts and crafts, eating, story-listening, playing, and quiet time/napping