Hi! My name is Missy. I grew up in Bloomington, have been married to Kurt since 1999, and have two wonderful daughters, Megan and Kelly. Prior to having kids, I worked at a childcare center, starting as an aide and then becoming the head infant teacher. After I had my first child, I knew it was my calling to provide home-based childcare to other families. It was one of the best decisions I've ever made. We LOVE the Lakeville community and the wonderful families we've met here.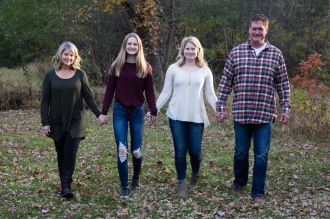 SOME FUN FACTS ABOUT ME:
What did you enjoy doing as a kid? Hanging out with friends, rearranging my room, camping, and exploring. My family spent many summer weekends at the Brainerd International Raceway (my dad raced Formula V cars). I had my own little Quarter Midget metallic gold race car—No. 5—by the time I was in kindergarten. To this day, when I see gold metallic paint it makes me happy, and 5 is my favorite number.
What's one thing your daycare kids would be surprised to know about you? I think they'd be surprised to know that I actually work! I can't tell you how many times over the years a little one has asked me if I have a job.
What do you love most about your job? I love making an impact in these young lives. I get to give and receive hugs and love every single day. And really, isn't that what life is all about?!
How would your family/close friends describe your personality? My friends say that I connect easily with people, as if I've always known them, even though we may have just met. My husband describes me as outgoing, assertive, driven, determined, and not afraid of a challenge.
What do you do to unwind? A cup of coffee and my laptop in the early morning, a book on the deck in the afternoon, and sun-soaked weekends at the cabin—boating, jet-skiing, four-wheeling, tubing, and when the sun sets, evening campfires. Perfection.
What invention would make your life easier? I actually had a dream that I invented a clear-view diaper. Instead of pulling a diaper back to peek inside, you could see from the outside if a child needed to be changed. I woke up and thought about pursuing the idea, but then I had my coffee and remembered where my heart is.
What are your hobbies? I love to organize—it's so fulfilling to me. I love the sense of accomplishment I feel when I complete a project. (This serves me well, since you have to be organized in this business!)
What one word or phrase is your prayer, intention, or theme? My daughter bought me a plaque: "Always pray to have eyes that see the best in people, a heart that forgives the worst, a mind that forgets the bad, and a soul that never loses faith in God." I pray for those things daily.
What was one of the nicest compliments you ever received? Nothing puts a little kick in my step than when someone notices my effort and hard work…especially when it's one of my little daycare kids. Years ago, a little guy told me, "Missy, I have 100 gold coins at home and I'm going to give them all to you for all your good work and service." When I'm having a hard day, I still think about the gold coins I'm certain I've earned that day.
How do you make a child's transition into daycare easier on the child? On the parent? I schedule extra helpers for the first week a child is with me so that I can spend valuable one-on-one time with that child. During this adjustment period, I plan special activities to help them feel like an important part of our group. I encourage the parents to check in with me throughout the day, and I text updates and photos of their kids. Open, honest, and ongoing communication is so important. It helps create a smooth transition for everybody.